It's not the first move Facebook has made into eCommerce, but introducing Facebook Shops is definitely one of the biggest.

In 2016, Facebook introduced Marketplace for peer-to-peer buying and selling. There have been updates here and there from Facebook, but nothing to really make a huge wave in the social selling space. Today, the announcement of Facebook Shops (hopes to be) monumental for the platform.
The effort for Facebook to make this big push into eCom has been accelerated due to covid-19 and the amount of businesses who need to adapt to keep operating.
"We're seeing a lot of small businesses that never had online presences get online for the first time." – Zuckerberg
Facebook Shops allows businesses to set up storefronts on Facebook and Instagram. People can browse products that can be purchased directly through Facebook.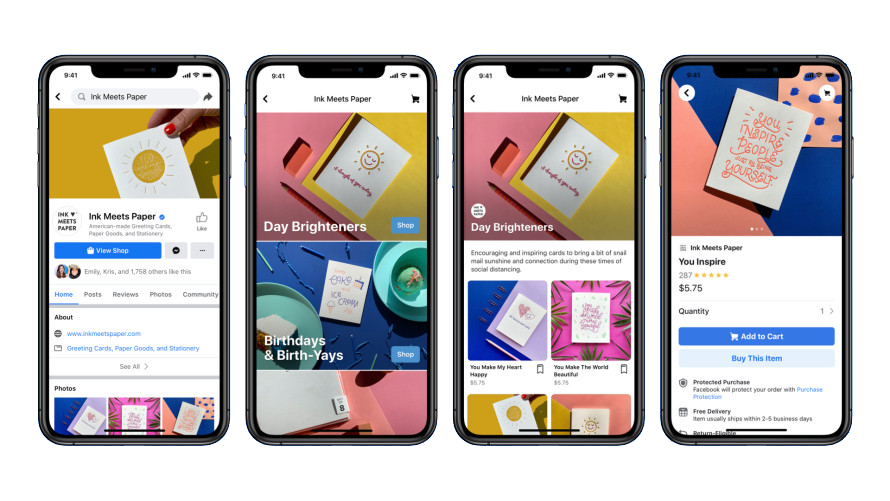 160 million small businesses that already use Facebook to market their products. With Facebook Shops, users' payment credentials will be stored in a single place so they can buy on any Facebook or Instagram storefront without being redirected.
The idea is to create a more seamless experience for the user to allow a deeper shopping experience without leaving the app.
How do businesses benefit from this?
1. Embrace social selling
Small businesses will be able to adapt quickly to the new tools and should use being small and nimble as a strength. eCommerce has seen tremendous numbers yet so many businesses are still being shut down.
Instagram shop (shop tab coming soon!)
Live shopping (tag products shown in broadcasts)
Product discovery
2. Focus on customer loyalty
"Businesses aren't just a list of products." Entrepreneurs that create deeper relationships and optimize for lifetime value have seen more success than those simply creating a digital catalog.
A person doesn't just buy a product. They buy into the business. Create incentives and easy ways to engage on social to reward loyalty.
Earn rewards
Connect existing loyalty programs (coming soon)
Incentivize repeat purchases
3. Provide customer support through messaging
Businesses can manage customer support through Facebook Messenger, Instagram DM and WhatsApp. Resolve any issues quickly and instantly. Do not add barriers or friction. Prioritize customer support through social platforms. 
Ask a product-related question
Get support with an issue
Track deliveries